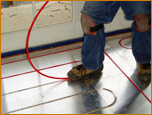 3) Research brought me to understand that radiant floor heat is one of the most efficient and comfortable ways to heat a structure.
The guys at Warmzone have already been great. I installed some radiant floor heat in a basement bathroom floor as well as in my office. That process will be documented in another web site.
But I digress. My research told me that the ultimate in radiant floor energy efficiency is a hydronic heating system. That sounds good, except that my good friend Matt at Warmzone told me that going from a hibernating 55 degrees cabin in the winter, to the expected 72 degrees needed for a weekend, might take days.
The problem example: when coming up on a Friday night for a weekend of snowmobiling, the space would be up to heat right about the time you leave.

The only solution would be a remote thermostat so that you could call the house a few days ahead of time, and start warming the house.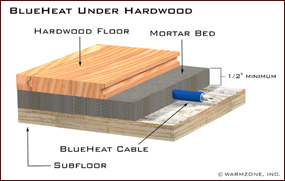 The other solution that Matt at Warmzone told me about was that electric in-floor heat will get a space up to temperature in a count of hours, VS the days required for hydronic. Sure, electricity is going to be a little more expensive than propane, but I would imagine that having to make the gas-fired boiler run so hard for 3 days would negate much of the efficiency savings it might offer. Matt has also assured me that this type of cable is also a relatively efficient use of electricity.

I've has some additional thoughts as well, bordering on the survival-ist mentality. If energy becomes difficult to secure for an extended duration, will it be easier to find/make your own propane, or electricity?

To answer that rhetorical question, I do have plans for some type of solar collectors and/or wind power.

Of course, many have questioned the durability of electric radiant heat. I know that I did when I was first learning about it. Again, Matt at Warmzone helped to dispel that concern as well. There are several installations of electric radiant floor heat in Europe which are still going strong after 40+ years. That's pretty impressive, especially when you consider that technology has increased dramatically, and the cables now are even more high-tech and should have an even longer potential life.