Alright. I have the lot and know the dimensions. I also know what the structures look like. The next question is how will they fit?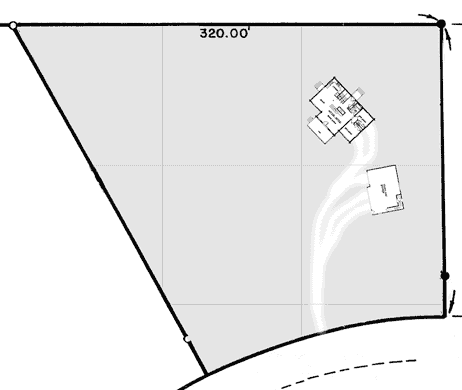 With the basement garage in the cabin and the main level entrance on the garage/apartment, the use of the natural grade of the lot will be critical. I took a crack at it here. BTW - The squares are equal to 1/4 acre lots. I wanted perspective as to how this particular home would have fit on a 1/4 acre lot.
At this point I asked Ken from KH Design to step in and consult with me. What I need is a layout that would allow me to place my septic system, water well, and plan for tree planting.
---
[TOP]
Ken from KH Design said that in order for him to do this, I would need the topographical map (elevation contours) and he could work on that. I started to do my homework and found that it would probably cost at least $600 to have someone do that topo, but I figured that I had to have it done for the building permit... I mean I needed one for the home I built here in Utah... long story short, no. There is no requirement for topographical survey to build. I was being told that I didn't even need architectual plans for the cabin... "no architect. Just build!". While I like the sound of that, I like planning, so I have decided to have Ken do this work for me. A good plan is worth the extra costs in my opinion. When Ken heard this, he said that if I could give him 6 points or so with the elevation height differences, he could actually extrapolate a solid topographical survey.

My father and I, armed with a 250 foot tape and his hand-held GPS unit (which tells elevation) went out and measured a bunch of points for Ken. It's a Garmin unit similar to the one here. I don't remember the model, but it turned out to be fairly accurate as we went and rechecked points a couple hours later, we were certainly within a foot or two over the whole lot.

This is what we had for Ken. I put the points into Photoshop and told him where the best views were so that he could position the properties.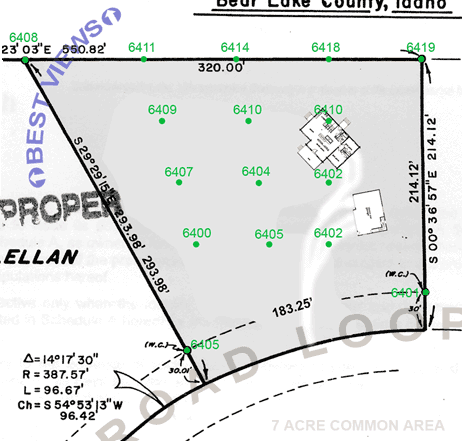 So, a few weeks later, this is what Ken sent back. All I can say is nice work! That topo matches the contours of the property nearly perfectly. BTW - Each contour line is 2 feet in elevation.
He has two building placements. I think I like the 2nd one. It would be less driveway to 'pave'. This is #1: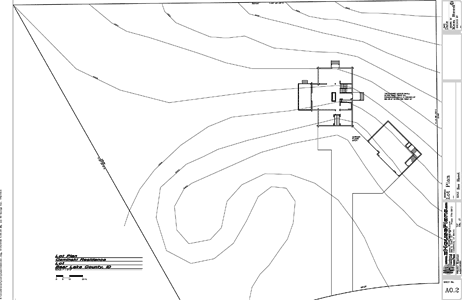 This is #2 (my preferrence):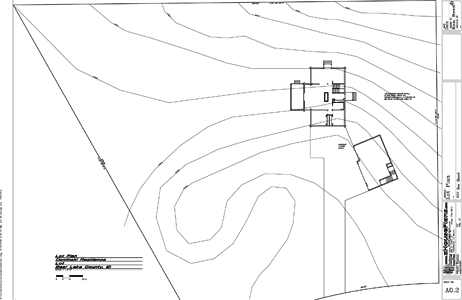 Although #1 would offer a more traditional front view of the garage/apartment when you approach up the driveway.
---
[TOP]