This is where things start to get interesting. The research, the learning and understand what's best for what we're looking to do. First things first, I need to determine what I'm going to do with the 1.35 acres.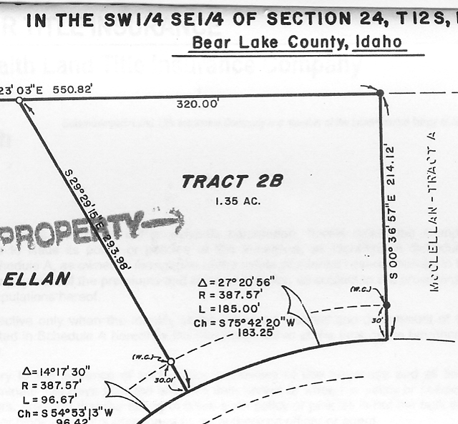 This is a scan of the lot from our title documents. It's a good place to start. Everything begain with this scanned image. I cleaned it up a bit and wanted to see how a structure would fit when scaled down proportionally.
---
[TOP]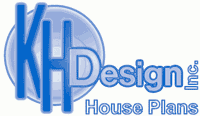 I spent a lot of time on the Internet looking for cabin plans. I always knew that I would be using the architect I used on my current home, for this project. So I spent some time on Ken Reed's web site KHDesign.com or zHousePlans.com (both go to the same place). He has a lot of great stuff on his web site, including some log home plans. While I had different ideas than a log home, those tend to have excellent floor plans in layouts that appeal to our plan.

I grabbed a cabin plan that looked reasonable, just to see how it would fit. With some math, I scaled the floor plan down in Photoshop to see how it would look.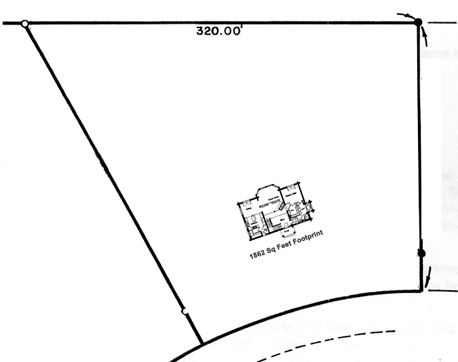 This was to understand scale and what I learned was that this lot is much larger than I had even considered. There's a lot of room on that lot....
The next thought was about toy storage. I have never heard of a recreational property having too much parking/toy storage. While having dinner at a neighbors home, they mentioned that a great way to build is to build two structures. The first is a garage with an apartment above it. You finish that smaller (thusly less expensive) structure and it creates a 'home base' where you can sleep and store tools while you build the main (and more expensive) structure. In the end, it also gives you extra parking stalls.
Don and Bess (the neighbors next door and the owners we bought the lot from) have several structures on their property. They have a very large pole-barn type structure with an apartment above it. In speaking with them, they did exactly what I heard from our neighbors. They built the garage/apartment, then used that while they took their time and worked on their Ranch House. It sounds like a great plan, and it's already been done on the lot next to mine, so no worries, right? Wrong. With this thinking, I had just set myself up for the first significant scare of the project. More on that later in the development.