Kristy has a friend who owns a cabin in Fish Haven, Idaho. It's really nice, up on the hillside with a great view of Bear Lake. It was during this stay that we realized how nice it would be to have a get-away like this. We have both wanted to build again, but don't want to leave our current home which we built back in 2000. We spent a few days in the area and drove through all the local towns and really enjoyed the small town feel that the whole area has to offer. When I got back home I did some research online to see what property might be available in the area.
On my own, the only properties I was able to locate tended to be located in 1/4-1/2 acre developments on the hill side overlooking the lake. They are really nice and have year around access, power, water and sewer.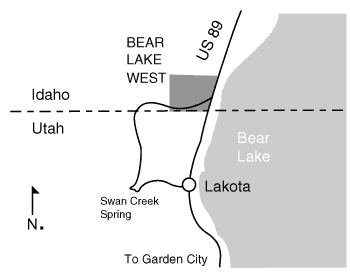 ---

[TOP]
I thought that it might be time to see if any realtors in the area knew of any more remote properties. The requirements was that it needed year around access, which is easier said than done because I wanted to be able to ride snowmobiles off the property to the trails. And I wanted the lot to have power available. This obviously restricted the properties available.

---

[TOP]
Recreation Realty based out of Garden City, Utah seemed to have some property listings that looking interesting.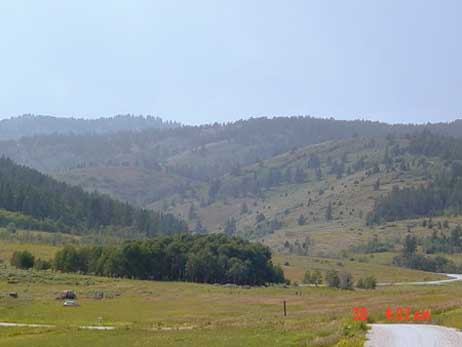 I called them and started working with Paul Webb. He was very helpful and had some excellent ideas. We set up time on a Saturday in the middle of winter to go take a look at a few lots. It was myself, Kristy, Leigha, Lance, Kristy's mom and her sister Megan. Paul took us to two of those lots on the side of the hill over looking Bear Lake. They were nice, but really felt like your everyday subdivision located in suburban Salt Lake City. Sure the homes are a little more rustic looking, but it wasn't the farm/cabin feel we were looking for.

Paul suggested that we go take a look at the McClellan lots in Liberty. We had to follow US 89 along the whole lake, go through Paris and Ovid and then when presented with the option to right to Montpelier as 99% of the traffic would usually do, we took a left into what looked like dry farms.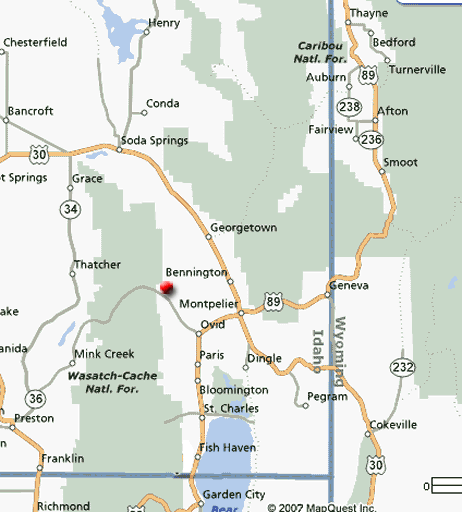 It was flat and it seemed like we were in the car for a long time, but then we came over the top of a little hill and entered this little valley where 4 canyons all meet. There was a LOT of snow and it was exactly what we were looking for.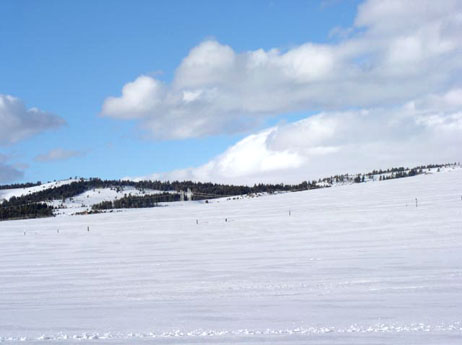 You can see the little black marks in snow? Those are the tops of the fences on the back of the property.
---

[TOP]
We learned that the property was owned by Donald & Bess McClellan. As it turned out, they own and live full-time on the property next to the lot we were looking at. They run the Bear Lake Ranch House which can be rented for a home base for nearly any type of outdoor recreation that you might like to do. Over the past year We have gotten to know them and they are two of the nicest people you could ever meet. We made an offer on the lot without ever having seen anything more than snow and the top of some fence posts.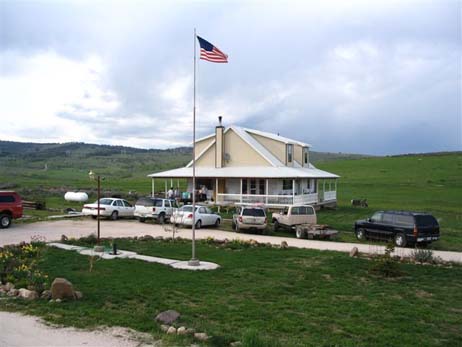 I laugh because in an email he introduced us to the other owners on the loop. "They came up to see the lot 5 or 6 weeks ago and saw 4 feet of snow and said yep I think our snowmobiles will fit on that. It appeared to me that they didn't even care if it really had soil under it or not." Yep, That's pretty much how it went.