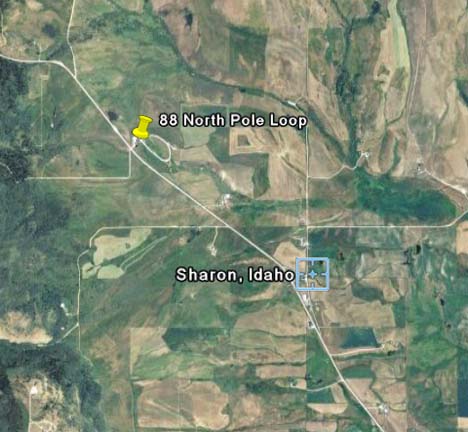 Sharon proper shown in this image. More history of Sharon available too. This is an interesting excerpt I found online, compiled and written by Ida Lucille Wixom Prescott. A former long time resident of Sharon, Idaho. March 23, 1961.
"The people settled here because of the rich soil and good lumber before it was a town there was a saw mill and a dairy there. Wild hay grew waist high and it was an ideal place for cattle. Several men in the valley formed a corporation and started the union dairy. Samuel Humphries was the operator James McMurry was the first cowboy. The first milk maids were Sarah Hoge, Nettie Bee, Elvira Ricks, Maria Nielsen. They were required to milk 20 cows each day stir the cheese and clean the vats for one dollar a week. Good calico at the time was 50 a yard, and a sturdy pair of shoes cost $1.00. Some nights the cowboys would be out nearly all night to keep the bears away from their young calves, as they would often kill them. Jack Snider an old trapper camped on a creek that runs through the town. The creek has since been known as Snider Creek.
Arnold Merk and his wife was the first to live there. They stayed there one winter and he came out once on snow shoes. Blizzards were bad and the snow deep. Some times it would drift clear up to the eves of the homes. Joseph Wixom was the first to own land in this territory and to plant crops, he also planted an orchard that was very successful his wife had a beautiful raspberry patch."
The original page from which this quote was pulled should be here.